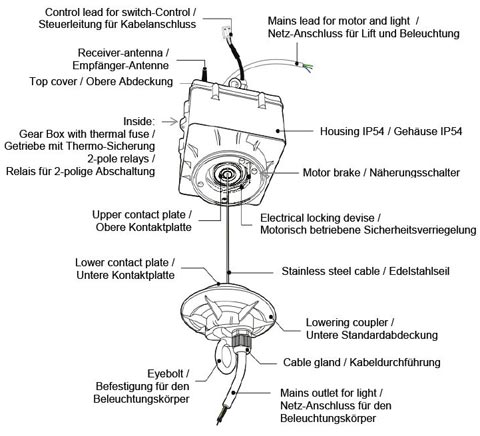 What weight are you considering?
Weight is the main criterion when selecting the appropriate lift. The weight of the luminary plus the weight of any accessories must be taken into account. Never exceed the lifting capacity of the lift and always ensure at least 40% of the rated load is suspended from the lift to maintain tension on the suspension cables. See catalog for guidance.
How do you define the lowering distance ?
The lowering distance is the second most important criterion to consider, it can be set and programmed to a safe and comfortable level via the RCU. The distance can be adjusted or changed at any time during the life of the lift.
Why does the shape and design of the luminary matter?
Shape and design of the luminary determines if a single or dual suspension wire lift is required. Single suspension wire lifts are most suitable for highbay and pendant style luminaries and offer greater lowering distances.
When do I need multicontact Lifts?
For DALI, emergency power supply or other applications REEL TECH multicontact Lighting-Lifts are available. Beside the main light circuit there are 4 additional auxiliary contacts. Separate power supplies for the motor and the main lamp allow external dimming and Integration into safety switching concepts.
Wir verwenden Cookies für Benutzerfreundlichkeit, Statistik und Einstellungen.
Wenn Sie hier bleiben, nehmen wir an, dass Sie mit der Verwendung von Cookies einverstanden sind.
Weitere Informationen: Privacy Policy
OK